Thanksgiving might be over but I'm still giving thanks for the save-my-life beauty products I've discovered this year.
Maybelline Dream Lumi Touch Concealer in Beige. Think of it as a cheaper (and yes, slightly less potent) version of YSL's legendary/cult-status Touche Eclat concealer, at a fraction of the price. I dab and blend under eyes, down the center of my nose and the laugh lines around my mouth. Pro tip: err on the side of darker with this one, especially if you have a medium or olive skintone.
Make Up Forever HD Microfinish Powder. This is one of those products I've seen in every make-up artist's kit but like with Maybelline mascara, I've always had my doubts. Consider said doubts squashed when I picked up a tub of this for myself. As I have this totally charming ability to shine up like a disco ball within 10 minutes of leaving the house, I've been surprised at how long this stuff sticks (and maintains matte-ness) after I use it to set my make-up. A godsend.
Too Faced Shadow Insurance Candlelight Softly Illuminating Eye Shadow Primer. The brand's regular Shadow Insurance is already a staple in my kit and, on a whim, I picked up the Candlelight version. With the same "a little goes a long way" quality as regular Shadow Insurance, Candlelight's golden sheen means matte eye shadows get a subtle shimmery makeover when applied.
L'Oreal True Match Lumi Health Makeup in Sand Beige. I'm really digging this luminous trend in make-up! Confession: after I finished my bottle of Make Up Forever HD Invisible Cover Foundation, I was in NO HURRY to pick up another bottle of something that would cost me almost $50 after tax. No thanks. So I nabbed a bottle of L'Oreal's new Lumi foundation and whaddyaknow: it goes on sheer, is easy to apply (hello,smooth) and is SPF 20.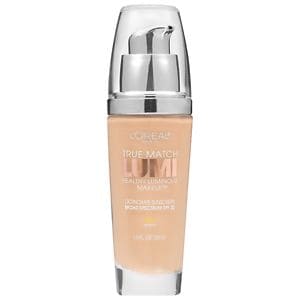 RapidLash Eyelash Serum. My lashes are wimpy, something I've long lamented. I've tried Revitalash, then went through a round of Latisse (which worked but was expensive) and now, this year, RapidLash which has promoted (so far successfully) length and some subtle volume. I'll still be rocking two pairs of fakes when I'm working, though.